(Photo by Staff Sgt. Nicholas Wilson, 509th Bomb Wing Public Affairs, Whiteman Air Force Base, Missouri)
Matthews-Crawford Post 131 in Warrensburg, Missouri, recently honored three post members who reached the 70-year membership milestone with The American Legion. At the post's membership luncheon on Sept. 20, 2014, they were honored as over 140 Legion Family members and local dignitaries attended the event.
The three 70-year members were Howard E. Chappell, John W. Marr and James S. Whitfield. All three were born in Johnson County, Missouri, and joined the military during World War II.
Chappell joined the U.S. Marines after graduating from Knob Noster High School in Missouri. Assigned to the HQ 2 Battalion, 26 Regiment, Fifth Marine Division, he sailed out of Honolulu to the south Pacific and to the volcanic island of Iwo Jima. There he fought and was wounded, and received the Purple Heart. Chappell is a past post commander and former mayor of Warrensburg.
Marr was one of the first U.S. Army men to train as a parachutist. He was part of the 82nd Airborne Division at Normandy, France, and parachuted in during the D-Day invasion. Marr participated in the Battle of the Bulge and also served in Vietnam. Marr was elected to the U.S. Army Infantry Officer Candidate Hall of Fame and the Army Aviation Hall of Fame. He retired as a colonel from the Army after 32 years of service in 1974.
Whitfield, affectionately known as "Mr. American Legion," joined the U.S. Navy at the age of 17 and served for 33 months aboard the USS Gen George Squier off the coast of Africa, transported troops into southern France in 1944 and served in the Pacific Theater. He is also credited with three days of submarine duty.
Whitfield has served in many capacities at the post, district, department and national levels of The American Legion. He is the senior past commander from Post 131 and in 2000 was an honorary department commander. He was elected to the Missouri Boys State Hall of Fame in 1988 and was appointed by then American Legion National Commander Dan Dellinger as the Legion's representative to the National World War I Centennial Commission.
During the ceremony, Department of Missouri Commander Dennis Woeltje and Post 131 Commander Peter Zwally presented Chappell and Whitfield a framed 70-Year Membership Certificate. Marr, who lives out of state, was unable to attend the event and his daughter Connie Marr and sister Shirley Jones accepted the certificate in his honor.
The names of the three members were also added to the "Bud Love 70-Year Membership Club" plaque. Love was the first Post 131 member to reach the 70-year membership mark. The post membership voted to purchase a plaque in his honor after he passed away earlier this year.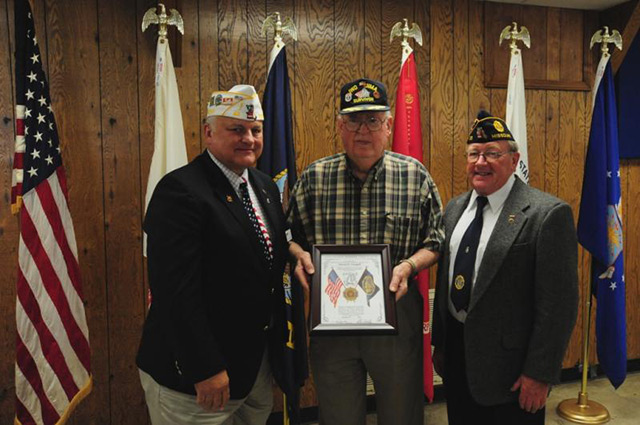 Dept of Missouri Commander Dennis Woeltje, Howard Chappell and Post 131 Commander Peter Zwally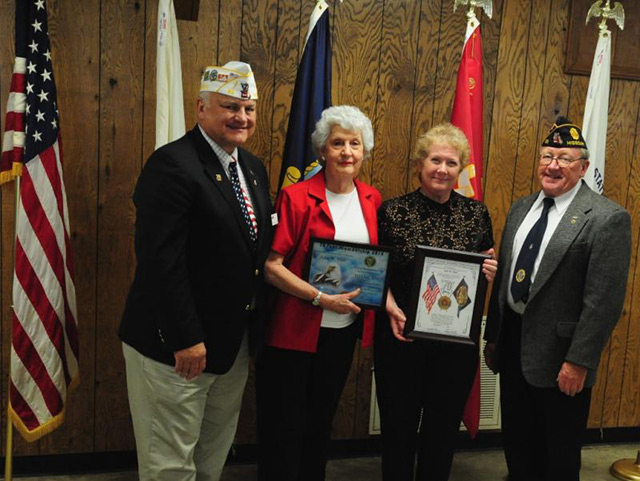 Dept of Missouri Commander Dennis Woeltje, Shirley Jones, Connie Marr and Post 131 Commander Peter Zwally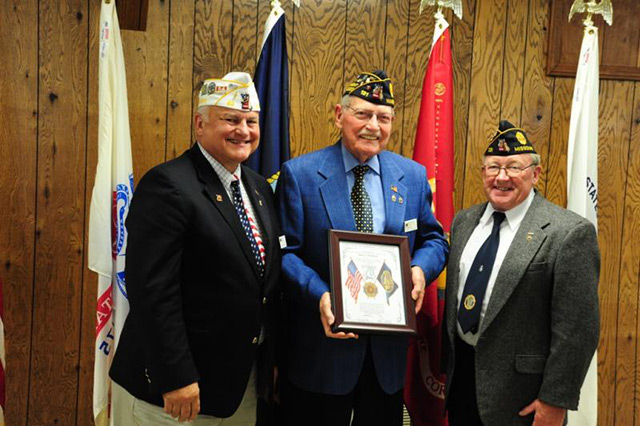 Dept of Missouri Commander Dennis Woeltje, James Whitfield and Post 131 Commander Peter Zwally