Flynn, Tiana Stephens' grandfather, serves soda to fellow soldiers. Department of Defense Photo, courtesy of Betty Perkins and the Democrat and Chronicle. This is one of the photos available at the Democrat and Chronicle's online library. http://koreanwar.democratandchronicle.com#sthash.g4Z2UvPh.dpuf
By Lindsey Alexander
The boxes of photos came through a friend of a friend's deceased father two years ago. The father had been a reporter who had taken official Department of Defense photos of the Korean War. They landed in Betty Perkins' lap.
Perkins, herself a Korean War veteran, wasn't sure what she would do with them, but was sure the "pristine" 8.5-by-10-inch glossy black-and-white photos needed to get to the families and surviving vets. She's working to find the people pictured, and get originals when appropriate and high-resolution copies to them.
"These are all June, July and August of 1950, which really narrows it down, and this is when so many - if not most - of our men were killed," Perkins said. "I wanted to give them to the families of the men that never came home, and I'm finding the men that are still alive are reaching out to us or their families [are]."
More than 10 photos have been sent to veterans or their families, including one Korean prefect's son whose father is pictured.
The official snapshots of the Department of Defense span the range of emotion, action and inaction in the lives of servicemembers in Korea.
"Every single one of them has a story that's just so great," said Perkins, a member of American Legion Post 941 in Rochester, N.Y. "On the back is like a history lesson."
The backs include ranks, branch of service, descriptions and sometimes names. Nearly 90 are identified on the backs of the photos and more than 60 remain unnamed.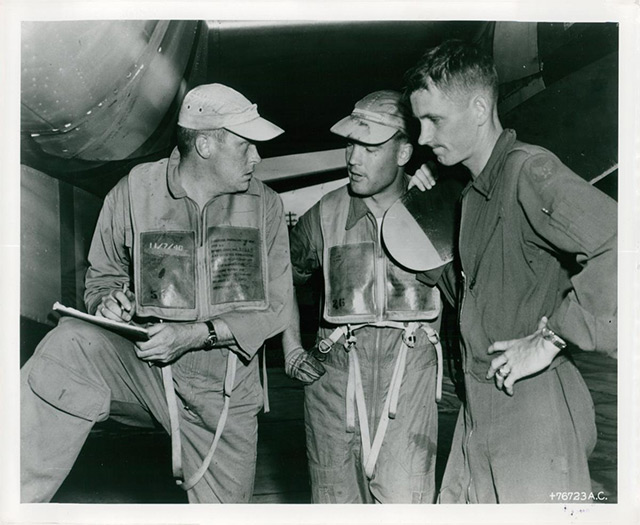 Discussing a B-26 mission flown Wednesday, June 28, 1950, over Southern Korea, is Lt. Dave Meredith (left) of Pittsburgh, a pilot. Lt. E.M. Stringer (with his hat off), a squadron operations officer, is from Moberly, Missouri. The other pilot is Lt. Ken Walser of El Paso, Texas. Released from Washington, D.C., July 18, 1950.
Trying to select a favorite out of the collection is difficult for Perkins. She said the Air Force photos (for obvious reasons) stand out, and the one of three women boarding a plane from Guam to Korea is striking.
"But there's one. There's definitely one. It's Gen. MacArthur sitting in a Jeep, and behind him is a sergeant and I was a sergeant. Behind him is a man in dark glasses, which I think we've found - I'm waiting for a picture [from his daughter] of her father in that era when he was that age," Perkins said. "I'd love to find that sergeant."
Others deal with anonymous figures but are weightier on the heart.
"There are two men in a foxhole. One is awake and the other one is sleeping," Perkins said. "Then the one that goes to your heartstrings is just total battle-weary of three men sitting down and one's got his coat sort of over the top of his head. ... It really does get your heart."

Three students take time out from rifle practice for a smoke. Left to right: William R. Lawton of Pittsburgh; Wallace A. Hirai of Maui, Hawaii; and Ivar Buch of Farsund, Norway, a student at Clarkson Institute of Technology. July 1950. Fort Belvoir, Virginia. Department of Defense photo
They bring to mind Perkins' own military service. She had been a diving champion attending a small college when she learned if she joined the Air Force, she could complete her degree at Baylor University.
"I said, 'Where do I sign?'" Perkins said. I was only 17 and you had to be 18, so I needed my parents' permission."
Her mother refused, despite a family military legacy.
"She said, 'Nice girls do not go into the military.' She wouldn't even discuss it," Perkins said. So she did what any self-respecting teen would do. She bypassed her parents. "I called Uncle Oscar at the Pentagon. ... She would not budge, so he signed. That's how I got in the Air Force."
She trained crews in water survival and swimming. She went on to coach in the Olympics and start her own corporation. But she remains dedicated to veterans' causes, including the Korean War Veterans Association and The American Legion.
Between running her business and working to track down those pictured, Perkins was able to cobble together some local media attention. A local news story aired in the Rochester-area on July 4, 2012.

Tiana Stephens holds a photo of her grandfather, Flynn, after meeting with Betty Perkins and identifying her grandfather in a long-lost image.
Tiana Stephens was watching. The camera panned over a select few from the collection. One surprised Stephens.
"One of those guys looks like my grandfather ... but there's really no way it could be him. It's just wishful thinking," she said. Still, she searched his name, Crawford Flynn, who had passed away in 2005, in the database mentioned in the story. He didn't pop up, no match, so she dismissed it.
But looking through her own photos in 2013, the story reverberated.
"I had always kind of had it in the back of my mind ... I could still picture the photo in my head. I might as well just go see it in person so I can know for sure," Stephens said. She made arrangements to meet Perkins.
Stephens brought a photo of Flynn to Perkins' house, and Perkins pulled the glossy photo from the envelope.
"When I saw it in person, I knew right away that it was him because of the family resemblance. Even his posture looks like the way my brother stands," Stephens said. "The picture is situated so that it's a profile picture of him and I also had a profile shot of him, so when we put it next to the picture, it was like a mirror image. Like it was an exact match. It's undeniable."
The two women began jumping up and down with joy, Stephens said. They lived in the same town, though they weren't from the same town and neither was Flynn, and out of the entire collection, Flynn's photo had been featured on the news.
When Stephens visited her family in Denver, she brought copies of the photos along.
"The picture brought out so many more stories that I hadn't heard about him," she said. These stories included several about when her grandmother, Nabuko Flynn, then a waitress at the coffee shop on base in Japan, met and Flynn began dating.
But Perkins didn't just help Stephens and her family.
"Until Tiana I didn't know if we'd ever reach anybody," Perkins said.
"After I had that experience with my family and that amazing connection with Betty, I knew that I needed to help her take the next steps to find more people, and I knew that that meant the photos needed to be online somewhere," Stephens said.
Stephens made contacts at Kodak Alaris, which used special scanners that capture both sides of the photos at high-resolution. Rochester's local paper, the Democrat and Chronicle, volunteered to host the photos on its website.
"We have got to find these families. It might be a brother, a neighbor, a cousin, someone you go to church or synagogue with or whatever. I just hope we find them. We're all in our 80s. I'm 83. And so time is of the essence," Perkins said.

While obviously not an Irish setter, in spite of his Irish sounding name and the fact that he will sit up in this position for hours, "Sergeant" Flanagan is the adopted mascot of this advance Fifth Air Force Base in Korea. Here Sgt. Flanagan models a paper hat which Air Force Sgt. Milton Turner of Brownsville, Oregon, has just placed on his head. Aug. 1, 1950. Department of Defense photo"
If you want to browse the photo library, share the photos on social media or see if a veteran you know might be among those pictured, visit the Democrat and Chronicle's site: http://koreanwar.democratandchronicle.com