Operation LZ: Helicopter Opens The Show
I've been a professional pilot for over 50 years — I manage an airport, and I write for several aviation magazines. I live in southern Minnesota, in the Midwest. Whatever national policy has been decided in Washington, we Midwesterners tend to support our military personnel, regardless of whether we agree with the policy or not. The Vietnam War took hundreds of thousands of Midwesterners into the military over the years, and I was one of them. It introduced us to people and lifestyles we had only heard about (and some that we had never heard of). It brought a partial end to our insularity. Anti-war protests happened mostly on the coasts, but here in the Midwest, "our people" were happy to have us home after our military service, and we were happy to BE home. We quickly shed our uniforms to get on with our lives. The war was forgotten, for the most part by the non-participants, but never quite forgotten by the participants.
The one thing that Vietnam vets did NOT get was a triumphant homecoming — a "THANK YOU FOR YOUR SERVICE!" that had been accorded to military veterans in nearly every other major conflict. Unlike most other deployments, most Vietnam vets were not deployed as a unit. Most were deployed overseas individually, and after serving their time in country, they came home individually as well. They were separated from the service shortly thereafter, without public acknowledgement of that service. They quietly re-integrated into their former lives, but some were changed forever. Their fellow vets knew about the issue, but the general public did not.
Fast-forward 40 years or more. The small city of Forest City, Iowa (population about 4,200), noted that it was the 40th anniversary of the end of that war, and that many vets in Iowa STILL hadn't received the thank you due them. Many towns this size would simply shrug it off and ask, "What could WE do?" The people of Forest City elected to do what they could — to provide the missing "Welcome Home" celebration that veterans had missed. It would be a one-time celebration, not an annual event, so the organizers resolved to make it the very best homecoming they were capable of putting on!
I'd heard rumblings about an upcoming aviation event at Forest City, but my flight schedule was so full that I had no extra time to give it much thought — UNTIL aviation friends Dick and Theresa Trimble gave me a call. They asked if I had heard of "Operation LZ" (LZ means "Landing Zone" in military parlance — a particularly apt name, as a "landing zone" was something familiar to every helicopter-deployed veteran, and it could also be applied to "landing" safely back home). I told them I had heard of it; they asked "would you consider being our announcer for the air show?" I told them my flight schedule probably wouldn't allow it, but listened to their description of the upcoming event anyway. I told them that one of the reasons I write is that I'm not a very good public speaker. Theresa countered with, "I've heard you speak, you do a very good job on things you know about, and you DO know about airplanes!" I told them I would think about it — and I DID wrestle with the decision. I could ill-afford to take the time — on the other hand, it WAS a good cause, and it was the right thing to do for Vets. How could I NOT do it?
A meeting with the Trimbles provided a thumbnail of the event. It was to be a "Vietnam Homecoming" with events split between the airport and the Winnebago campgrounds (Forest City is home to RV giant Winnebago Industries) located adjacent. The "9-County Committee" would provide the "welcome home" with a cast metal Vietnam service medal, an Operation LZ commemorative "Challenge Coin", bands, speeches, entertainment, a traveling replica of the Vietnam Wall memorial, food, fireworks, friends — and most unique of all, every Vet received a "Welcome Home Hug" from the ladies of the greeting party! I asked how many people they were expecting, and was told "About 500 Vets, plus their friends and families—we are expecting 2000 to 2500 people." How WRONG they were—they would eventually have about 4,000 vets, and a total of about 25,000 people (including 1,900 school kids) attending! The Committee, and the town, simply adapted. Here in the Midwest, if a few more people show up at your house than anticipated, you simply welcome them and add more chairs to the table!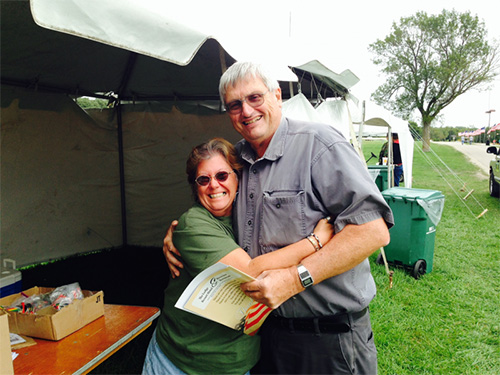 Operation LZ: Hug For Vets
The Trimbles had already done a lot of preliminary work on the airshow portion. I asked them about the theme. "Vietnam was an Air War," Dick explained. The Huey helicopter was the iconic emblem of the war. Everybody involved — Vets and those who only watched it on TV - remembers the images of the Huey and the distinctive WOP-WOP-WOP of the two-bladed rotor. "We would like to keep the theme Vietnam-centric," Dick continued. "We've been offered a number of WWII Warbirds, but we would like to keep it to aircraft that flew in the Vietnam era." Since so many of the Vietnam aircraft were jets, that really limits the field, but our mission was defined. The Hueys were easy — Committeeman Riley Lewis had already contacted Sky Soldiers out of Atlanta. They are a nonprofit dedicated to preserving the aircraft of the Vietnam War. Though they hadn't previously done exhibitions west of the Mississippi, spokesman Joe Emerson lives in Iowa, and they made an exception. They have an FAA exemption allowing them to sell rides in their aircraft, something that has been a BIG draw across the country. They agreed to bring up 2 UH-1 Hueys — and as a bonus, a Cobra 2-place attack helicopter! Now we had aircraft that the public could not only SEE, but could actually RIDE in!
I went to the big aircraft gathering at Oshkosh, WI, looking for other aircraft. Normally, there are a number of Bird Dogs (O-1) and Skymaster (O-2) observation aircraft there — but for some reason, the number of these aircraft was down this year. For a higher-performance aircraft, I was looking for a Mohawk—a twin-turboprop aircraft that performed surveillance missions mostly at night. I found one—thought we had a deal, but the owner backed out a couple of weeks later. The hunt continued. Sky Soldiers came to the rescue, offering to bring a Bird Dog along with the helicopters. Jim Rohlf of Monticello, Iowa, heard about Operation LZ, and offered to bring his Skyraider — a hulking big carrier-capable piston-engine aircraft widely used in Vietnam as a ground-support aircraft. "Grunts" appreciated the Skyraider because of its ability to deliver close air support — the ability to linger over a target, and the huge supply of ordnance it carried (more payload than a B-17 — on only one engine!) We received an unexpected call — a Mohawk pilot had heard that we still needed a Mohawk. He conferred with another Mohawk owner in Florida and told us, "If you want it, we'll come!" The Iowa National Guard was contacted, and agreed to bring up a big Chinook heavy-lift helicopter (perhaps it had something to do with Iowa Governor Branstad being a native of the Forest City area). We were looking for an O-6 "Loach" and an OH-58 Bell scout helicopter, but though they were available, most have been reconfigured to civilian configuration. As the word spread, however, we did pick up an additional Huey flying in for static display, and two more Bird Dogs. A T-28 flew in for static display — the U.S. didn't fly them in Vietnam, but the Vietnamese put them to good use for close air support. Our dance card was filling up!
We had three hot air balloons with POW-MIA themes available from Freedom Flight of St. Cloud, Minn., for tethered rides, but they were staged near the campground to avoid interfering with airport operations. Skydivers were engaged to do a "flag jump" to open the airshow each day, and also to provide tandem parachute jumps for any who wished to purchase them. To fill out the air show, the POET Aviation Demonstration Team was engaged to provide a 3-ship aerobatic display. This moved the event into new territory. While flight demonstrations of the other aircraft can be conducted as "normal operations", an aerobatic display requires FAA approval — Notices To Airmen must be filed, the airport closed, crowd restrictions and crowd control enforced, aerobatic display areas cleared and listed, performers and aircraft cleared by the FAA, briefings held, and an FAA inspector must be on site. All this comes under the province of the "Air Boss" — the person responsible for working with the airport management, the performers, and the FAA. I asked the committee who the Air Boss was going to be; the response was "since you are going to be the announcer, we were thinking it would be YOU!" The level of involvement went WAY up!
I worked with the Trimbles as airport managers. We worked on crowd control, act sequence, NOTAMs, Aerobatic box, FAA paperwork, and all that goes on with a full airshow. While the FAA requires a pre-briefing, I told them I wanted to meet individually with each performer prior to the show to go over procedures and paperwork, so there would be no surprises when we met for the "official" FAA briefing. I wrote notes about each participant and their equipment—including its Vietnam history.
Vietnam-era vets and their friends and families started arriving days before the event. Contrary to what is often portrayed in the movies, these were not people with severe emotional problems—they were seniors (most of us are eligible for Social Security) enjoying the entertainment planned for them—the company of other vets—and the main theme of the get-together, the "WELCOME HOME!" celebration. Some of (but not all) of the demonstration aircraft also began arriving on Friday.
Friday night, we got the weather forecast—and it wasn't good. Early morning fog and low ceilings. This required revamping the entire airshow schedule. I worked on the revision until after midnight. BIG changes to make: The opening ceremony with the Flag Jump wouldn't be available due to low ceilings. The POET squadron would likely not make it The Chinook would not make it in. We needed to innovate and S-T-R-E-T-C-H the show.

Operation LZ: Spad
On arrival early the next morning, I met again with the performers. Each offered additional demonstrations they could do to fill in for the missing acts. What cooperation! We then held our "official" briefing with the FAA representative—and presented him with all of the paperwork filled out. It went off without a hitch. I had to find a new opening for the show to replace the "Flag Jump" due to the low ceilings—and in only 15 minutes. The Trimbles produced an American Flag—I asked the band performing if any of them could do a Jimi Hendrix rendition of the Star Spangled Banner on the guitar (something most Vietnam-era vets would find amusing) but they demurred. Literally at the last moment—as the crowd was gathering-- the young lady working the sound system said "I can do this—a capella". I handed the microphone off to her, and did a quick consultation with the Cobra pilot—the Cobra could fly in the low ceilings and fog. I asked him to fly some passes up and down the runway, and upon my cue, to come to a hover just outside the crowd line, directly in front ofthe stage. I cued the Cobra—he started making passes—then cued the singer. Just before "the rocket's red glare……." The Cobra came to a hover behind the crowd—its signature sound of Vietnam blending with and punctuating the National Anthem. The singer did a wonderful job—from the stage, I noticed many a tearful eye from the crowd (after all, this IS the Midwest!). As I told the crowd, "I've never seen a Super Bowl opening or halftime show that compares to this one!"
All through the show, I did a running commentary. The Sky Soldiers put on a demonstration—the scenario is that the Bird Dog is hit by enemy fire—makes a successful forced landing, and the Cobra comes on scene with suppressing fire—making room for an extraction with the Huey. Very informative and impressive! The Skyraider showed its performance, but just as he started the show, the POET squadron called in—15 miles out—wanting to get in. I told them to stand by—the airfield was closed—I would have to confer with the FAA whether we could suspend the airshow to let them in. The FAA agreed—we had their paperwork—I had provided the demo team a briefing on the airfield and procedures by phone and E-mail—we could let them land, then fit them back into the show. After landing, the Mohawk did his demo—one of the Bird Dogs showed off its short-field capability, then the POET Squadron did their "low show" act (specially adapted to low ceilings) to close the show for the day.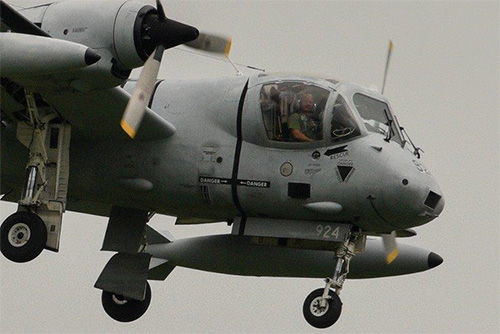 Operation LZ: Mohawk Landing
The enthusiastic crowd looked at the static displays—but the big draw was the Huey and Cobra rides by Sky Soldiers. Vets and civilians alike mobbed the ticket booth—waiting for hours in line until darkness forced the helicopters to land. Over 1000 rides were given—many Vietnam Vets purchased rides for their children and grandchildren.
I got up before dawn the next day to make plans for the day. I had been so busy the previous day that I hadn't been able to visit the replica Vietnam Wall memorial. In the pre-dawn darkness, I made my way to the Wall to pay my respects—it was illuminated by floodlights. There were about 200 chairs set up in front of the wall, but the rain the previous days had made the area a muddy mess. Not to worry, though, all was taken care of. Fresh hay (reportedly from the farm of Iowa Gov. Branstad—himself a vet) was spread by volunteers. Even at this pre-dawn hour, there were small groups of people at the wall.
Sunday was a repeat—the ceiling was still too low for getting the skydiving or Chinook acts in. We did a "pre-brief" with the performers to check for problems the day before—then the official FAA brief. This time, I had a brass band playing prior to the show, so I asked for "God Bless America" with the same helicopter "accompaniment" and the same appreciation from the crowd. After the show, the crowd again mobbed the helicopters for rides—but the Cobra was disabled by a hydraulic leak. The Sky Soldiers were planning on leaving by mid-afternoon, but the line just to purchase tickets was so long that they elected to stay until the next morning. Outside of the air show, Vets and visitors viewed the large collection of Vietnam-era military hardware on display—plus 250 Vietnam-era cars on display.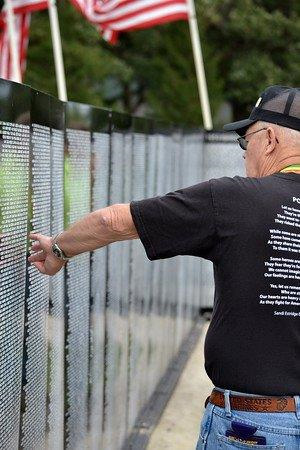 Operation LZ: Touching The Wall
On the way home, I made it a point to drive home via a different route. Not only was the town decorated with American flags and welcome signs, but every road within a 20 mile radius was similarly festooned. I was SO PROUD of little Forest City, Iowa for giving Vets the WELCOME HOME they never received—and for the exemplary way they "did it up right" (to use a Midwestern term)—they made the celebration the very best it could be. Like the "Field of Dreams" (also another Iowa institution), the people of Forest City believed "if we build it, they will come"—and come they did. The most common lament heard was not a complaint about the event itself, but "Why haven't I heard about this?" followed by "Are they going to do this again?" The answer to the first question is "Because we don't want this to be another Woodstock—where the event got bigger than we could prepare for" (with disastrous consequences). The answer to the question of whether Forest City will do this again is "No"—the intent of the event was to provide the homecoming. Perhaps other communities would like to put on a similar event — events may spring up Brigadoon-like every so many years.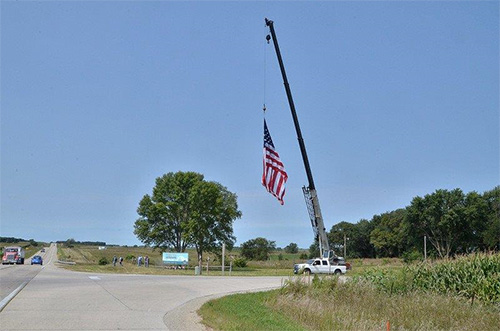 Operation LZ: Flags Around Town
I'd like to thank the Committee for asking me to be a part of their event. As a Vietnam-era vet myself, it was needed—it was the right thing to do. As a pilot and a writer, it allowed me to contribute what I could to the event. As a Midwesterner, it showcased Midwestern values and Midwestern abilities to "do the right thing." It is something that likely could not be replicated anywhere ELSE but in the Midwest. It was one of the best things I've ever done.
Sidebar: How did this happen?
It is an old Roman axiom by Tacitus that states "Success has many fathers, but nobody claims defeat." That may have been true in Rome, but not in Iowa. Today, Midwesterners are often referred to a taciturn in homage to old Tacitus—meaning "reserved or uncommunicative, silent, not inclined to conversation." Despite the resounding success of Operation LZ, I found few people that would take credit for this outstanding event—all praised it as a "community effort". Operation LZ may not have had many "fathers"—but it certainly did have a lot of OTHER relatives in the support of almost every person in the surrounding communities. Living only 12 miles from the Iowa border myself, I speak "Iowan", and was able to finally get Riley Lewis to act as a spokesman. Some quotes from Riley:
"Operation LZ was financed by the 21-member committee (from 9 cunties) who approached individuals, businesses, and institutions to invest. Donations ranged from $5 from a widow to $30,000 from a Foundation. Most American Legion and VFW Posts donated. We also had cash raffles, and sold T-shirts and hats. The cost to put this on was about $260,000."
"The Private Andrew Malone Car Show drew 210 vehicles for display."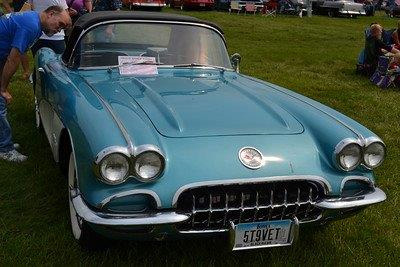 Operation LZ: Car Show
"Operation LZ was designed to let Vets plug in wherever they felt comfortable—some wouldn't go to The Wall, but really wanted to fly in a Huey again—some just wanted to visit with other Vets."
"We couldn't have done it without the cooperation of Winnebago Industries, Heritage Park, and Forest City Airport—altogether, it was 220 acres for camping, aviation events, and entertainment—all located together."
"Sky Soldiers gave about 1000 rides, despite one of their helicopters being grounded with a mechanical problem. They said 'Operation LZ was the best and most organized weekend they had ever been involved with."
Some of my favorite thank yous from Vets and families:
• "Operation LZ did more for my husband's healing than 40 years of attending treatment at the VA"
• "I came to Operation LZ as an individual—I left as part of a new community of brothers and sisters of the War."
• "Finally, someone had the guts to help make a wrong—RIGHT! In many Veteran's lives."
• "My Dad was a Huey door gunner—we came as a family and at times, emotions were high—but in the end, we toasted Dad's service at the beer garden—a great day that will be remembered in our family forever."
I asked if the sponsoring Committee would be willing to share their expertise. If you would like to stage a similar event in your community, contact Riley at lewisrk@wctatel.net – like most Midwesterners, he is always willing to help. Visit Operation LZ website at http://www.operationlz.com/ and Sky Soldiers at http://www.armyav.org/home-page.html.